| | |
| --- | --- |
| Top 5 4GX Compatible Mobile Phones | 20/02/2015 |
Sprout gives you our top 5 4GX compatible mobile phones. Whichever you choose, get an amazing mobile phone case to match your style.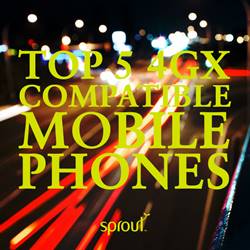 The superfast 4GX network is finally here and being trialled in a number of cities and regional areas across Australia. It's heralded as the new breed of 4G offering turbo speeds for download, sharing and streaming.
We've been following this closely over the past few months, so you may already know what is 4GX and its compatibility issues. If you're ready to make the leap to a faster network (and you're in a 4GX area), here are the top 5 4GX compatible mobile phones on the market.
Samsung Galaxy Note 4
The 5.7 inch screen of the slimline Galaxy Note 4 delivers deeper contrasts and vivid colour in all lighting conditions. It comes complete with fingerprint security and a new S Pen with improved pressure sensitivity for precision in content selection. The Galaxy Note 4 is now available on the 4GX network and don't forget to wrap the precious in a Sprout phone case to match your style.
iPhone 6
The all-new iPhone is larger with a seamless aluminium and glass design. Though slightly smaller than the Samsung Galaxy Note 4, it does have touch ID, advanced M8 motion processor and it comes with the all new iOS 8, optimised for a larger display and filled with new features. Combined with 4GX capability, the iPhone 6 is now elegant and fast.
iPhone 6 Plus
The new iPhone 6 Plus is bigger, and now even faster with 4GX compatibility. The plus-sized version of the iPhone 6 has a larger screen measuring 5.5 inches making it a hot competitor to Samsung's latest release phones. With one of our new Sprout iPhone 6 Plus phone cases, and now fast speeds with 4GX, you'll be the centre of attention.
HTC One M8
Now with 4GX compatibility, the HTC One M8 has focused its latest design on sound, picture quality and durability. It has two speakers and amplifiers so you can belt out your tunes on the go. With advanced camera features and photo editing, and with 4GX compatibility you can share high quality images with friends.
Samsung Galaxy S5
Dubbed the adventurer's phone, the Samsung Galaxy S5 is water and dust resistant, is more efficient for longer battery life, and makes keeping fit easy with all-new apps and Bluetooth gear. Now, with the 4GX compatibility, you can stay active and connected. If this is the phone for you, check out Sprout's Samsung Galaxy S5 phone cases, particularly the Tuff Case with its dual layer protection. The Telstra version of the Samsung Galaxy S5 mini is rumoured to also have 4GX compatibility.
Cover it with Sprout
Whichever new 4GX compatible mobile phone you go with, Sprout has you covered with funky phone cases to match your style. Sprout is an Australian brand that can be found in over 300 retail locations and you can also buy our phone cases online. Visit the Sprout online store now and get inspired by Sprout.
Article Link